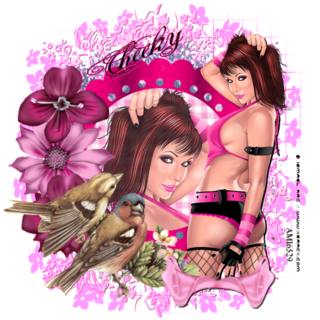 supplies needed
Im using the art of ISMAEL RAC .
HERE
You will need the proper licence to use his work.
The scrapkit i am using is PTU called Potpourri,and it is By Seachell.
HERE
I am also using Mask Sg_Stencil-Flowered-Circle By Essex Girl.
HERE
Lets Begin:
Open 700 x 700 white canvas.
Paste Frame 4 on your canvas,resize by 70%.
COLOURISE to the colour of your tube
Using your magic wand,click in the center of your frame,
Selections,modify,expand by 5 pixels,Invert.
Copy and Paste Paper 2 as a new layer,hit delete,and drag paper below the frame.
Keeping your frame layer active,Add a close up tube,lower opacity to 86,
Hit delete,select none,drag below frame layer.
Add your other tube,place it where you desire,add a drop shadow of your choice.
Now make the tag your own,Place elements of your choice,resizing and adding drop shadows .
X out your background layer,Layers,merge,merge visible,
Image resize,i resized mine at 80%.
Un X your background layer,keep it activated,
Copy and Paste a paper of your choice as a new layer,
Add the mask,layers merge,merge group,Image,resize by 90%,
Layers,merge,mergeall flatten.
Add all copyrights,Add name of choice.
Save as a J-peg.
Tag finished.